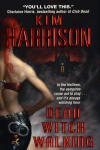 Over the years I've heard Kim Harrison's name and Amazon keeps trying to recommend her Hollows Series to me.  The titles are all clever takes on movie titles (mostly starring Clint Eastwood).  It wasn't until Lisa Damian's interview with Kim Harrison that I decided I would give the series a try.  She seemed like such a nice person, how could I possibly ignore her novels any longer?
Months later I found myself reading Dead Witch Walking, the first in the series.  In an alternate history, bioengineering created a plague that killed a lot humans.  This allowed the supernatural inhabitants (Witches, Pixies, Vampires, Weres, etc.) known as Inderlanders to come out of hiding since they were no longer outnumbered.  Humans moved closer to the cities. 
This series features Rachel Morgan, a witch.  In Dead Witch Walking, she's an Inderland Security Runner who takes advantage of capturing a leprechan for tax evasion.  Working for the I.S. isn't what Rachel thought it would be and she's looking for a way out.  The leprechaun is her opportunity.  Before Rachel knows it, her former I.S. partner, Ivy Tamwood, and her I.S. backup, Jenks, use up the remaining wishes to leave the I.S. too.  Ivy is one of the best I.S. Runners and their former boss puts a price on Rachel's head.  He knows she has something to do with Ivy's resignation.  Partnered with a living vampire and a pixie, Rachel must evade the bounty hunters while trying to find a way to get the contract cancelled.
The magic used by witches is interesting.  There is earth magic and ley magic.  All magic requires a sacrifice of some kind; even using an amulet requires blood droplets to activate it.  White earth witches use plants while dark earth witches use body parts.  Ley line witches use raw life force power sources.  (The only other series I've come across that uses ley lines is Kat Richardson's Greywalkerseries.)  The sacrifice in using ley lines is of souls.  Rachel is a white earth witch but she's not afraid to cross the line into the greyish/black area of magic if she thinks it's for a good cause.
Some rather unexpected things happen along the way, including Rachel figuring out she's the leader of the trio.  They form their own runner service named Vampiric Charms which is a clever name before knowing whether or not their services will be needed.  Some of the backstory and world building is a bit repetitive in the beginning but it was worth reading until the end.  I have the next book in the series on my TBR pile.