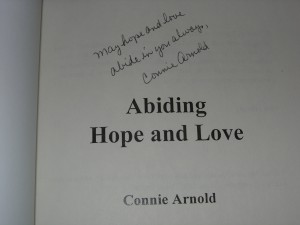 Connie Arnold has graciously provided a signed copy of Abiding Hope and Love for one of my lucky readers.  All you have to do to enter is leave a comment between now and Wednesday, April 29th at 11:30pm Eastern to let me know of your interest.  This is open to international postal addresses.  The winner will be picked using the randomizer available at random.org. 
Here are two poems from the collection – "Melody and Harmony" and "Love Can".
Melody and Harmony
Melody
Hope filled
Joy is spilled
Calming, insightful, creative, delightful
Melody
Harmony
Love unites
Thrills and excites
Pleasant, blending, never ending
Harmony
 
Love Can
Love can put a smile on your face,
Can make this world a better place.
Love can chase away hate and fear,
Can make another seem more dear.
Love can never be bought or sold,
Can make you feel younger once you grow old.
Love can bring great happiness,
Can take away pain and loneliness.
Love can make the spirit feel light,
Can lighten a load and make the day bright.
Love can unselfishly give and not take,
Can do what is best for another's sake.
Love can share each and everything,
Can offer the best that life can bring.