Today is Carrie Vaughn Day while she is doing a virtual tour for Kitty and the Dead Man's Hand and Kitty Raises Hell.  The series has been great fun for me to read and review.  I'm so pleased that I was able to send some questions to Carrie and be able to share her answers with everyone.  Thank you to Miriam Parker with Hachette Book Group for arranging it!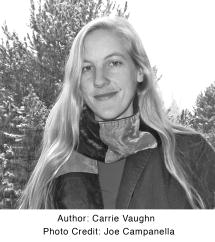 Amber: I love how the cover art shows Kitty with something or someone that is key to the book but doesn't give anything away.  How collaborative are you with the cover artists?
Carrie: Not very.  Most of the development/discussion is handled by the publisher's art department.  I've had a little bit of input and have made a few suggestions that were incorporated, but the artwork is mostly finished by the time I see it.  That said, last fall I did get a chance to talk a little bit via email with Craig White, the artist on all six of Kitty's covers.  He's great, and he's definitely made an effort to make sure the covers match the spirit of the books.
Amber: The books always seem to be a logical next step in Kitty's character arc.  Do you tend to write the next one while revising/editing the prior book?
Carrie: I always have ideas cooking.  I've pretty much always known what the next book is while I'm writing the current one, and I think that's lent a sense of continuity to the series.  When I started, I had no idea the series would go this far, but fortunately each book I've written has given me ideas for the next.
Amber: Of all the songs you include on the playlists for each novel, is one song a particular favorite?
Carrie: I think I'd have to say Peter Murphy's "I'll Fall With Your Knife," which is the last song on the playlist for the first book.  It's not necessarily my favorite song, but it was the song that was playing when I figured out what Kitty and The Midnight Hour was about, before I even started writing the book. Because of that, it has a pretty powerful effect on me.
Amber: Have you had any memorable moments while on book tours?
Carrie: Not really, because I haven't really done any book tours.  I have done some of the big conventions–New York Comic Con, San Diego Comic Con, and Dragon Con.  I remember sitting at my signing at Dragon Con, watching Eric Estrada flirt with some very scantily clad women.  This year at New York Comic Con, I sat two seats down from Lou Ferrigno.  I love people watching, and these venues offer great opportunities for people watching.
Amber: Anything else you'd like to share?
Carrie: Thanks for reading!  I feel that Kitty's success has a lot to do with the great word of mouth the books have gotten, especially online.  I really appreciate that.
Carrie's Bio: Carrie Vaughn had the nomadic childhood of the typical Air Force brat, with stops in California, Florida, North Dakota, Maryland, and Colorado. She holds a Masters in English Literature and collects hobbies-fencing and sewing are currently high on the list. She lives in Boulder, Colorado.
Here are the other stops on Carrie's tour:
http://BookingMama.blogspot.com
http://booksamyreads.blogspot.com
http://cafeofdreams.blogspot.com/
http://Cherylsbooknook.blogspot.com
http://acircleofbooks.blogspot.com/
http://amateurdelivre.wordpress.com
http://cindysloveofbooks.blogspot.com/
http://confessionsofaromancebookaddict.wordpress.com/
http://dreyslibrary.blogspot.com
http://stephaniesbooks.blogspot.com/
http://www.bookthoughtsbylisa.blogspot.com
http://www.bananas4books.blogspot.com/
http://www.chikune.com/blog
http://www.foreigncircuslibrary.blogspot.com
http://www.jennsbookshelf.blogspot.com/
http://www.msbookish.com
http://www.myfriendamysblog.com
http://www.writeforareader.blogspot.com
http://literaryfeline.blogspot.com
http://www.wrightysreads.blogspot.com
http://bookzombie.blogspot.com/
http://fictiontofruition.blogspot.com
http://wendisbookcorner.blogspot.com
http://www.myspace.com/darbyscloset
http://inbedwithbooks.blogspot.com
http://thisbookforfree.com/
http://thetometraveller.blogspot.com/
http://www.grammasreads.blogspot.com
http://samsbookblog.blogspot.com
http://bookseriesreviews.blogspot.com/
http://www.booksbytjbaff.blogspot.com/
http://unmainstreammomreads.blogspot.com/2009/03/kitty-norville-series-blog-tour-contest.html