12.15.09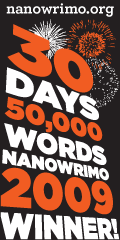 Just after 11:30pm Eastern time on November 30th, I crossed the finish line at 50,088 words.  To be honest, it wasn't until near the end of the month that I thought I might make it.  A challenge was thrown down and I took it.
I was averaging about 1000 words a day and was well short of making the goal.  Chris Baty stated on Twitter he was going to go for a 5kday on Thanksgiving and wanted to know who else was in. I figured if he was crazy ambitious enough to do it then maybe I could be just as crazy ambitious.
On Thanksgiving my starting word count was 25664 and by the end of the day, my word count had jumped to 29969.  I was short of the 5k goal but it gave me a confidence boost.  With my spreadsheet to do the math for me, I could tell I was not out of the running.  During the next few days I wrote 4,000 to 6,000 words a day. 
I ran out of story.  My fingers were cramped into claw-like things.  I had books I read in September that were waiting for reviews.  My team, Team Calliope, on NaNoLJers needed my word count to win word wars against the other teams.  My sweet husband kept the Resident Corgi distracted and he picked up dinner or helped me make it.  Yet something in me made me keep writing until I hit the end.
My reward for winning this year is a desktop edition of Write or Die!  It helped me win this year and will be great for freewriting on word prompts all year long.