05.30.11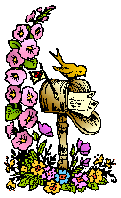 A big thank you to Marcia at A Girl and Her Books for originating Mailbox Monday. This weekly meme is now on tour with a new host each month. May's host is MariReads.
This week I received a variety of books. First up is The Walled Garden by Michele Lang. The main character is a young woman who discovers a secret world underneath New York City in the 1980s. The kindle version was free when I got it.
Still Life With Murder by P.B. Ryan. This was another Kindle freebie. It's part of a mystery series featuring Boston governess Nell Sweeney and opium-smoking former battle surgeon Will Hewitt. This is the first in a series that has 5 books so far.
In the Dark of Dreams by Marjorie M. Liu. I read the first few chapters in the 2010 EOS Reader HarperCollins put out last year. It's a paranormal romance between a mortal girl and a merman.
Bossypants by Tina Fey. The cover is horrible so it definitely didn't draw me in – I find Tina Fey talented and want to learn some more about her. Since it's comprised of numerous essays it should be easy to read when I have chunks of time.
Blood, Bones and Butter: The Inadvertent Education of a Reluctant Chef by Gabrielle Hamilton. Another memoir but this time by the chef and owner of Prune. On our recent trip to New York, my husband ate there on Wednesday and had such a wonderful dining experience he had to return on Sunday with me for brunch.
What arrived in your mailbox this week?