04.11.11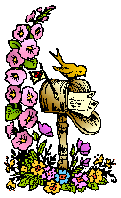 A big thank you to Marcia at A Girl and Her Books for originating Mailbox Monday.  This weekly meme is now on tour with a new host each month.  April's host is Passages to the Past.
All my books this week are from NetGalley.
Bite Me and Fang Me by Parker Blue.  These are part of the Demon Underground Series featuring Val Shapiro.  She's part human, park demon and hunts vampires.  I read the second book, Try Me, last year when I won it from LibraryThing's Early Reviewers. The publisher is holding a contest on Parker Blue's website to win all three books.
Skinny by Diana Spechler.  After her father's death, Gray Lachmann becomes a counselor at a summer camp for overweight children.
The Keeper of Lost Causes by Jussi Adler-Olsen.  I don't know anything about the plot but Jussi Adler-Olsen is a Danish crime writer.  That's really all I needed to know. 🙂  It's release date is August 2011.
The Mice of Bistrot des Sept Freres by Marie Le Toureau.  This is a children's book about Chef Marcel who runs the trendiest mouse cafe in Paris.  A culinary judge is about to stop by the cafe when Chef Marcel runs out of the secret ingredient for his cheese soup.
The Ninth Wife: A Novel by Amy Stolls.  What sane woman would consider becoming any man's ninth wife? Bess Gray is a thirty-five-year-old folklorist and amateur martial artist living in Washington, DC. Just as she's about to give up all hope of marriage, she meets Rory, a charming Irish musician, and they fall in love. But Rory is a man with a secret, which he confesses to Bess when he asks for her hand: He's been married eight times before. Shocked, Bess embarks on a quest she feels she must undertake before she can give him an answer. With her bickering grandparents (married sixty-five years), her gay neighbor (himself a mystery), a shar-pei named Stella, and a mannequin named Peace, Bess sets out on a cross-country journey—unbeknownst to Rory—to seek out and question the wives who came before. What she discovers about her own past is far more than she bargained for.
What arrived in your mailbox this week?