09.28.10
Title: Manifest: A Mystyx Novel
Author: Artist Arthur
Publisher: Kimani Press TRU
Source: Columbus Metropolitan Library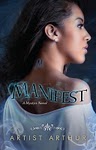 Artist Arthur captures the essence of a teenage girl unhappy with her lot in life.  Her parents have divorced and her mother's remarried.  Krystal Bentley no longer lives in New York City and has moved with her mother to Lincoln, Connecticut.  Krystal thinks her parents should still be together.  Krystal's dad won't answer or return her phone calls. 
Things begin to look up when this cute boy named Ricky Watson starts talking to her until she realizes he died a year ago and wants her to prove his friends had nothing to do with his murder. With her attitude it's no surprise she hasn't made any friends at all.  Even Ricky has been waiting to introduce himself to Krystal until he thought she might be ready to listen to him. 
Some of the things I didn't like: Finding Ricky's killer takes a backseat to finding out more about the Mystyx; and the diary entries about the Mystyx doesn't really tell the kids anything.
Some of the things I liked: Krystal matures and becomes less self-centered by the end; her circle of friends come from a variety of economic and ethnic backgrounds; and Krystal's relationship with her mother and stepfather improves once she's realizes her parents are never getting back together.